1.
Lias
made a "
LeeHere I see you
" thread on
gotVirtual.net
(Feb 28, 2011).
Lias said: "

Don't be that person on the internet following someone around being snarky, passive agressive and just rude. You may feign ignorance, but:
Now you are over at SLU giving likes to SCII Mods lobbing insults at me. We can co-exist without the bullshit. I don't want to have a year and a half of you showing up everywhere I am in the metaverse with some snarky 'joke' directed at me. I am just not amused.
Latch onto someone else. I am not the one.

"
2.
Wasted
made a "
Leehere I see you
" on
WastedLife.com.ar
(Aug 3, 2011).
Wasted said: "

Leehere don´t be that stalker cat behind the window, I´m watching you

"
I love the playful irony of "don't be a stalker" and "I'm watching you." (Never mind the whole "Here are my links, come see my website and videos" and "Aha! You looked!" game. Ah, Wasted logic. I love a good parody thread.)
3.
Wasted
posted these posts today.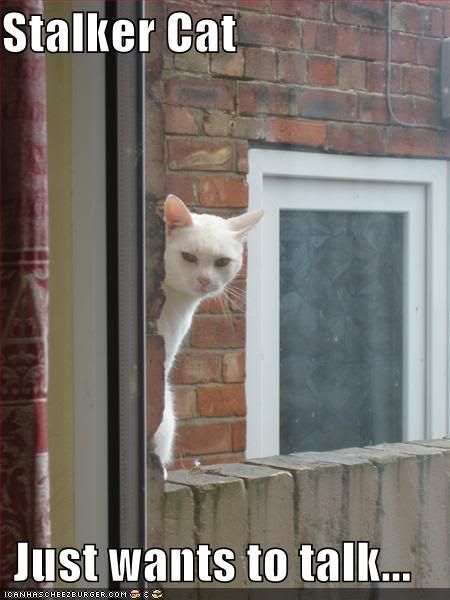 Wasted said: "Does anyone read the leehere´s blog leeherevw.blogspot.com ?
leehere, why don´t you remove that warning about the mature content? I never can read your blog, it doesn´t work on firefox for me.

"
I see you too,
Wasted
.

PSA: Watch out for that whole clicking links and post-response buttons on forums stuff. It's a trap!
p.s.
Yes, there are readers. You can see them making comments. No, I'm not removing the warning about mature content, because I post, ya know, mature content. As for Firefox, I'm reliably informed that there are numerous other browsers with which to view blogs. Good luck with that.