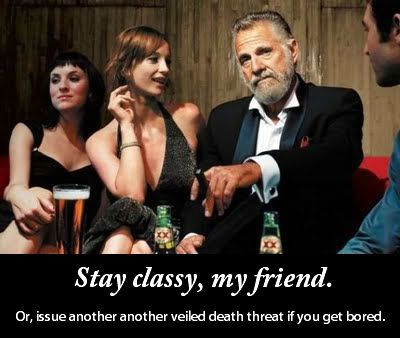 How do you know when they are the real thing and not just the hyperbole
du jour
?
Has
Mulch
been issuing them? Veiled or otherwise? Is he "ashamed of his history"? What is his "history"?
Is
Clancy
ashamed of whatever it is he is "planning to do"?
Will there be a confrontation? A confession? Will this story blow up or will it stay "off the record, on the QT, and very hush-hush"? Confidentially inquiring minds want to know.
Links:
http://gotvirtual.net/community/threads/so-i-couldnt-ignore-tarzan-anymore.2497/page-2#post-113263
http://gotvirtual.net/community/threads/so-i-couldnt-ignore-tarzan-anymore.2497/page-2#post-113269
http://gotvirtual.net/community/threads/so-i-couldnt-ignore-tarzan-anymore.2497/page-2#post-113520
http://mulched.blogspot.com/2007/08/internet-death-threats.html