High stakes too.
Cato Badger
, not to be confused with
Caitlin Tobias
, is currently engaged in a semantics battle with
Dakota Cody
over whether the
Badger
always says "its not always malevolence but occasionally incompetence."
Cato Badger
said:
"

As I always say its not always malevolence but occasionally incompetence.

"
Dakota Cody
said:
"

Liar. This is the first time I've ever seen you say that.

"
And so on for twelve more posts and two pages with no end currently in sight.
Take a look at the choice of insult being bandied about between the two.
"

You are HumptyDumptying.

"
Caitlin Tobias
, for her part, is currently passing
tout
like a battle ship in the argumentative night, just missing each other over some long not-lost and not-forgotten SLF forum grudge that involved, you guessed it,
Pep
. Much of this is going on in, of all places, the "
gV Unofficial Useless Statistics
" thread opened by
Lias
.
Just prior to all that the argument over who can lay claim to the forum use of "I'll be your Huckleberry" raised it's shaky head again.
Lias
continues to support her gV claim and
Grady
's SC MKII banner claim.
Fuckwad
's first use of it on the Utherforums remains largely uncontested, though
Maryanne
feels she used it more and there may be a higher claim in that. Which has more weight? First usage or amount of usage? I went off-forum in pointing out the 1993 usage in the movie "
Tombstone
" and
Pep
took us to 1900 with
his blog post
on the subject.
Jolene
and
Lias
have been arguing over who is stalking who. I'm not even gonna link ya. It's all over the place.
Remember these blog posts?
gV Drama...It started with a little thread about desktop images.
gV Drama...It started with a little thread about desktop images. (Part II)
And this thread on gV? "
What Computer Desktop Image Do You Use?
"
Well you can get new episodes in these threads:
"
Reddit pervs and pedos put paid to: no more Loli for you
"
"
2 or 3 Lollies, cosplay and circumstance.
"
Enjoy.
Wasted
is back again shilling for
his own forum
and going on about how, yep, you guessed it, "
The SL Related Forums Positively Suck
." He's also been going through a heart-wrenching roller coaster ride in his relationship with
Lias
. All he can do now is stand back and trust that she is doing the right thing.
Did I mention that ew0k made a brief and nearly forgettable visit to gV? Yes? No? Oh well, never mind.
"
Forum Feedback
" is back! Current discussion? The alt policy and an opt-out feature. Funnily enough, the "
legal threats/actions, death threats, etc
" thread also sprang back to life.
nina
said
:
"

sockpuppeting generally means using an alt to agree with your own arguments or team up with yourself against an adversary. or perhaps even using the alt to agree with an adversary and align with them using a strawman argument or otherwise trying to discredit their argument via 'guilt by association'.




rorting the trophy system is just that. using an alt to like your own posts to inflate trophy points and such.

"
"

i have been contemplating the idea of having two opt-out options. one option to opt out of nsfw and another to opt out of sfw. if one opted out of either they wouldnt see any trace of any forum with that classification.

"
Lias
said
:
"

I only did that to try to get normal functionality so I could like other's posts, select a mood, make an album and do some other updates.
If people could register a new account as an alt account and it could be given normal functionality immediately then that would be helpful.

"
Maryanne
and
Pants
got a little overwhelmed.
Pants
said
:
"

Oh dear, i cannot sort the CaTos and the catos and the Caitys. Who are the bad guys? I need to know

"
"

me groans. Ok just tell me who to Like please

"
Maryanne
said
:
"

Wait....
You have a manifesto?!?
I gotta quit skipping meetings.

"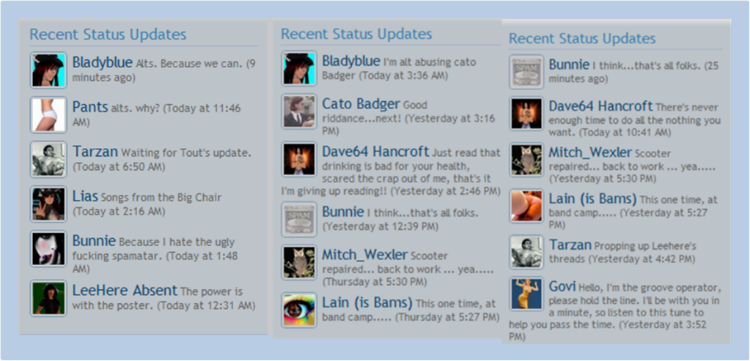 masonboob lover
got booted and banned for being underage while forum whoring and perving the "
Naughty
" thread.
masonboob lover
said
:
"

ha ha very funny im 12 years old bitch and my iq is prolly on the up side of 110

"
What is the up side of 110?
It appears
Bunnie
got both her groove and her forum avatar back as the Spam can is gone.
Speaking of
Bunnie
, the latest post in the "
Standing invitation for SCMK-II and SLU People who have an axe to grind.....
" thread is this one:
Bunnie
said:
"

After hiding out for I don't recall how long, I see Don Mill is Bulldick! posted over on SLU. Must be looking for someone else to file a suit on. Cristiano better watch his step!

"
Last, but not least, consider enjoying a few drinks in the
Saloon
. You'll need 'em.

ETA
: In addition to the "
gV Unofficial Useless Statistics
" thread started less than 24 hours ago, we now have a new companion thread complete with detailed scorecard graphic courtesy of
Lias
. "
Absolutely Useless Unofficial gV Statistics
"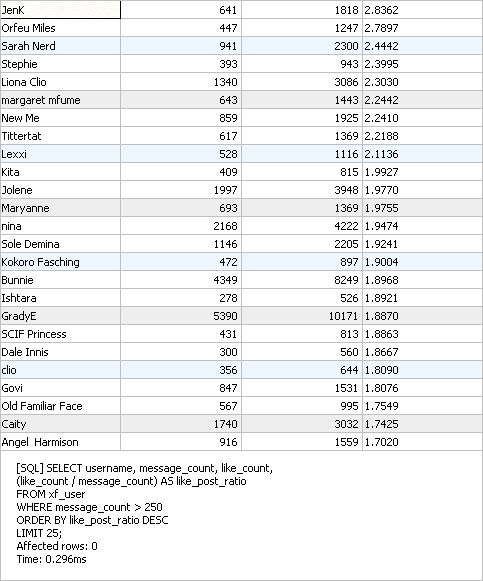 ETA3: The
Badger
explains
"Humptydumptying."
"

Humptydumptying means claiming to use a word in a particular way that is not the way in which it is usually perceived to be used like using say when nothing has been voiced or in forums when you have been caught using the wrong word like prosperity rather than posterity at which point you attempt to claim the moral high ground by saying that everyone knew what you meant and that it was only a bunch of letters with spaces on each end anyway and english is not a fixed language and if enough people use a word wrongly it becomes accepted usage and anyway english is not my first language and how many languages do you speak anyway and you are discriminating against me because I am a foreigner and I am a professor of linguistics in my own country and am an international soccer referee and can say penalty in sixteen different languages.

"
And this helpful quote and
link
from the changeling operating
Mitch Wexler
's avatar at present*:
"

There is the problem of humptydumptying, whereby a person gives an unusual and private meaning to a word with a more common and public definition and thus causes unnecessary confusion.

"
*Mitch used to have a bit of a tendency to prompt other posters to say JFGI on the screen, under their breath and/or in their minds, so I have no idea who this Googling, surfing, quoting, linking fool operating his avatar now is or what has happened to Mitch. It's what prompted me to say this in gV earlier. Not that I'm complaining, mind you.
Fine print: "Fool" here is meant playfully as someone doing a lot of something with a certain amount of abandon, not an unintelligent jerk.
Ooh, look. A philosophy forum.
mickthinks
said
:
"

Lewis Carroll had Humpty Dumpty say 'Words mean what I want them to mean'.

"
ETA4: A
link
to a list of gV posts with the most "likes."
ETA5:
nina
said
:
"

a thread is nothing more than an initial post.

"
ETA6: Snapper is back.
ETA7:
Cato Badger
said
:
"

You know what that reminds me of? This might annoy you though, but still: there was like a "movement" a little while ago, where homosexuals wanted to start calling themselves "Gays" rather than homosexuals because homosexual had too negative of a connotation or something. Well this caused a lot of consternation, because using the word "gay" to describe someone colloquially means you're calling them gay, and trying to refer to homosexuals exclusively as "gays" implied that they were gay to the exclusion of those who were not "gay". They tried arguing it, like "but gay is a noun!", but everyone knew it wasn't, and eventually that silliness just kind of became accepted because otherwise the homosexuals would have complained of homophobic discrimination.
Pep (And so we lost a good meaningful word.)

"
Cato Badger
said
:
"

Did you like it because I thought that since I have been posting like Pep and everybody has been suggesting I was Pep I would give everyone ammunition to point to in days to come to prove I was Pep.
Pep (Did it strike the right sort of resonant chord???)

"
ETA8: Poor
Saffy Pants
. We're going to drive her mad at this rate. See
here
. Hey, this is why I pick a name and a forum pic (and even a color) and stick with it. ;)