I've also been asked about Pep.
Here's what I said to Prokofy Neva about Pep on gotVirtual.net in February of 2011 after being asked twice:
Pep is Pserendipity Daniels. As a self-described (through the quotes and references in your blog) reader of the official Second Life blogorums, you would no doubt recognize the poster by that name, "Pserendipity Daniels." He also has a blog.
Pep's Parenthetical Postscripts
His tenure on SC MKII and SLUniverse is too short-lived for you to lump him in with the rest of the posters from those sites. But Pep was prolific on the SL blogorums.
He likes to enlighten, educate, agitate, uncover, expose and tilt at windmills too. You might like him.
For more on Pep, see
here
.
I brought a visual aid.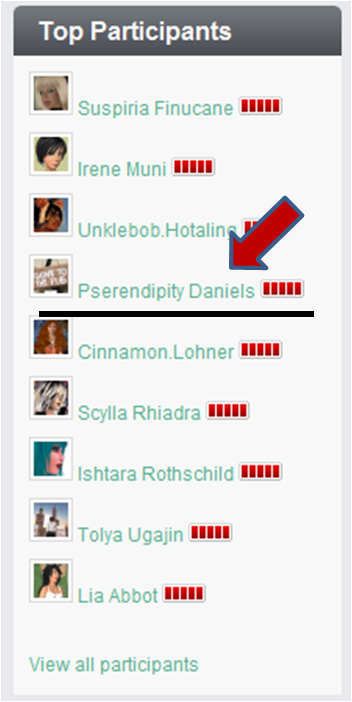 Is Pep a person?
Yes.
Is Pep a persona on the forums?
Yes
, with this
caveat
: "
Every forum version of Pep has been very careful to point out that none of them are the same persona as any of the rest of them, and can not be guaranteed."
Is Pep a poster on this forum?
Yes.
Is Pep an acronym?
No. It's a short nickname for Pserendipity Daniels. Hence "Pep" and not "PEP."
Is Pep the name of an avatar?
Yes, a forum-poster avatar. And quite possibly the nickname of an inworld SL avatar known as Pserendipity Daniels. Though some
distinction
has been made between "inworld Pep" and "forum Pep."
Is Pep the name of some kind of role?
No, although in some ways... yes. (See Pep's own remarks on that subject and the remarks of others who have something to say about the role he plays.)
Is Pep bigger than a bread box?
Yes, much bigger.
Can I put Pep in my mouth?
That's between you and Pep.
Is Pep a forum term like "OP" original poster?
No.
Does Pep have a blog?
Yes
.
Does Pep respond when you post to him?
Yes. Usually, anyway.
Does Pep answer questions?
Yes. He sometimes grants wishes too.
Is Pep one of those blowhard posters constantly on transmit-only mode?
No. Pep reads and "receives," so to speak. He "listens."
Does Pep have any strong opinions about things?
Why yes, yes he does.
Does Pep like lolcats?
No, and it's best not to push that particular issue with him.
Does Pep like any pictures?
Yes, "as long as they complement the text, or are not a lazy, meaningless option."
Does Pep "get" pop culture references?
Pep knows information vegetable, animal, and mineral. He knows the kings of England and can quote the fights historical. Pep gets them, uses them, and wields them like a bouquet of roses or a cannon, depending on the situation, which is why he will appreciate some of the ones I've stuck in here.
Is Pep a "tough guy"?
Chuck Norris and Ron Perlman ain't got nothin' on Pep.
Does Pep have a sense of humor?
Yes, thank god.
What is the joke?
Pep is more of a joker, than a joke. Chat with him and you'll find out.
I'll be writing the Pep Wikipedia entry next.
From Pep's blog:

ABOUT ME
PSERENDIPITY DANIELS
Pep for short (saving wear and tear on those sensitive digital sex organs) to my friends, although those who tend to over-react over-emotionally and illogically use various other nonPG appellations.
This is quite possibly the one time and place where I'd like to use that freaky [you] function that's so popular over on SC MKII.
http://gotvirtual.net/community/threads/standing-invitation-for-scmk-ii-and-slu-people-who-have-an-axe-to-grind.243/page-81#post-27486
http://gotvirtual.net/community/threads/peps-ball-field.830/page-2#post-27928
Here's something Pep said about himself and his name and posting in general on gotVirtual.net in the "axe to grind" thread:
"Careful Lee. Every forum version of Pep has been very careful to point out that none of them are the same persona as any of the rest of them, and can not be guaranteed even to have the same rl author from one post to the next. About the only thing that you can be sure of is that the Inworld Pserendipity Daniels has the same author as Forum Pserendipity Daniels (both known informally as Pep) because LL would have kittens if they thought that a different rl person was using the same login for the two "physically" separable environments which LL consider to be one "logical" internet namespace. It is probably fair, though, to assume that most (but not necessarily all) of the posts in the Pserendipity Daniels blog are made by the same real life author.
I am, however, sure that Forum Pep would want me to point out that the graphic you show is misleading, as he never intentionally posted in any other official "new" forum than General Discussions, and the chart you show is for *all* the SL Jive based forums, including the Commerce (*spit*) forum and SL Answers, where his abilities were not up to the post-doc level of cutting and pasting that was required. He was actually second only to Queen Suspiria in GD, whose post count was artificially inflated by an unlimited number of posts saying 'thank you for posting your badly composed shot of your ugly-cankled and linebacker-thighed avatar to my vanity thread'.
Pep (also is reputed to have a multitude of nefarious and malicious alts, according to the paranoid Suspiria and her Forum Alt Alt Cartel, including one by the name of Cato, which is why our sweet CaTo -

Ca

itlin

To

bias inworld - has been branded as his alt by the LeckaLike admin over in the OffWorld forum.)"
http://gotvirtual.net/community/threads/standing-invitation-for-scmk-ii-and-slu-people-who-have-an-axe-to-grind.243/page-81#post-27554
Links:
Pep's Ball Field:
http://gotvirtual.net/community/threads/peps-ball-field.830/
Pep's Parenthetical Postscripts:
http://pserendipitydaniels.blogspot.com/