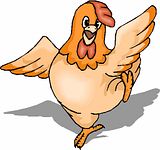 Must every blog and forum post contain a chicken reference? It's the virtual world's new meme. Someone tell JohnnyVann that chimps are so 70s. These are fowl times. Although we will never forget our dogs and lolcats, not even "
Snot
." And while some dastardly demons are killing the virtual world's chickens, Wasted pauses to reflect on his work. I'm more concerned about the Muffins of Doom and the flaming butt sword. I always thought "butthurt" was a little more emo and a little less...well, sharp, fiery and coming to a hole near any of us.
JohnnyVann
in "
Chimp Photo of the Week
" on SC MKII:
"

Remember Jen's Daily Chicken? Well now that I'm following Jan Goodall I get the Chimp Photo of the Week!

"
Wasted Engineer
on gV in the "
Am I strengthening or fucking the community?
" thread:
"Am I strengthening or fucking the community?

We could create a debate among those whom like my style and those whom like my cock, but this thread is more about something I ask myself once in a while...

Sometimes I think I am fucking everybody, and other times I feel I am strengthening the community.

I try to defend our rights, and I really try to defend the children and the weak minded persons against SecondLife, and I belive that it is a good thing for the community to protest about the sub-human conditions that Linden Lab wants us to stand."
Orinytync
to Wasted in
Wasted's Shoutbox
:
"

Undeniably believe that which you stated. Skup aut Your favorite reason seemed to be on the internet the simplest thing to be aware of. I say to you, I definitely get annoyed while people think about worries that they just do not know about. You managed to hit the nail upon the top and also defined out the whole thing without having side effect , people can take a signal. Will probably be back to get more. Thanks

"
Kristian
in "
mgz vs cristiano
" on SC MKII:
"

I've been bitten by this dog. I like to check that it's not crapping anywhere near my lawn once in a while.

"
Pep
said in "
Tarzan Loses His Grip
" on Forum Confidential:
"

Snot the Cat sounds like a great counterpart to Spit the Dog, the infamous cohort of unfunny Brummie comedian Bob Carolgees,whose only claim to fame was that he was part of the Saturday morning ITV mayhem on TISWAS ( http://en.wikipedia.org/wiki/Tiswas ) hosted by the delectably "leather and lace" Sally James and Chris Tarrant in the days before he got too derivatively self-referential for his own good and parodied himself as a quizmaster on Millionaire.
Pep (The late-night after-the-watershed version of TISWAS, OTT ( http://en.wikipedia.org/wiki/O.T.T. ) regularly featured stupid tits.)

"
CoyoteMomiji
in "
Richard Dawkins tells American women to stop bitching about sexual harrassment
" on SLU:
"

Someone print out a few dozen copies of Schroedinger's Rapist and then smack Dawkins around the head with it, please?

"
Mulch
in "
Chaos Factor: I'm calling you out
" on SC MKII:
"

this is rare. but you EARNED it, so enjoy



(you shoulda got one for your reno

chicken

stream play by play as well, but i dont think GV has that emote)

"
Mulch
in "
Example of another worthless scumbag politician in the US
" on SC MKII:
"

while wad and gle participate in a "chicken-dance" off

"
NikitaNightNinja
said in "
Fascist Fashion? In *my* SL
?" on SLU:
"

U r not getting it right wise guy, stupid here, was merely asking Detrius's opinion and I think he is too

chicken

to say what he really thinks or is afraid of being misunderstood by others and having to explain stuff to them, so he feels it safer to just attack me personally rather than what he probably knows I am trying to say or ask.
~ The Complete Idiot

"
Yeah, I said "chicken" too. This is me on gV in "
Mitch's Thread
":
"

A lot has been said about the "chicken and the egg" dynamic to DeNiro's and Pacino's acting and the directing of Coppola and Scorcese. Do they portray criminals exceptionally well or do criminals play them (modeling themselves on DeNiro and Pacino and characters in the films of Coppola and Scorcese)?

"
And now for flaming butt swords.
Joshua Nightshade
on SLU in the "
Goodbye
" thread:
"

He didn't suspend Ranma 'for her own good,' he did so because she was going on and on about sodomising people to death with flaming swords.

"
Joshua Nightshade
in "
Richard Dawkins tells American women to stop bitching about sexual harrassment
"on SLU:
"

Now now Miss Crabgrass, all that hate won't make you any more fascinating to be around at the church potluck.

"
"

Shush, or I will slap you in the face with my mastodonian penis.

"
Lias
on gV in the "
Standing invitation for SCMK-II and SLU People who have an axe to grind.....
" thread:
"

I went over to SLU (because you slags were sleepin') and got a thread locked in 3 posts and 5 minutes. That was unfulfilling.

"
Lias
on gV in the "
The Saloon (a mature area17-NSFW-Red thread)
" thread:
"

That sort of hyper drama only works on the mob at SCII and SLU."
"

I was inspired to think more about this topic not only by the holiday but a long Twitfight with an Indian philosopher, which

you can follow here.
P.S. You can also give me skin and make-up tips as I am rolling out my RL avatar who is female, I've been shopping for her in the retro stores today!

"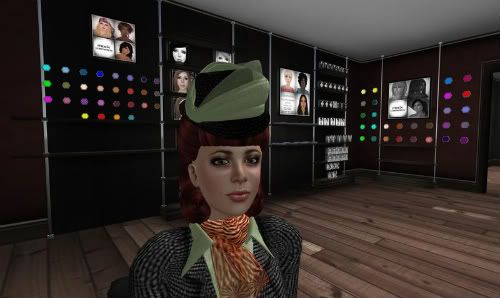 Morgaine Alter
on SC MKII in the "
ppl be stealing my shit in SL
" thread:
"

Muffins Of Doom ran by these two ppl and the known alts.

"
Atra Lupis
in SC MKII in the "
Ellos
" thread:
"

-waves- welcome to the mad house love.

"
Muffins of Doom:
https://marketplace.secondlife.com/stores/78744?id=78744
And a "Doom" song...