This is a follow-up to "
Eavesdropping (July 5, 2011)
."
RanmaTardis
registered on
SC MKII
, passed through
Ellis Island
, and is now on SC MKII "
asking to be forgiven
" and to have that message passed on to Joshua in the
SLUniverse
too. The following quotes are from Ranma's posts on
SC MKII
.
"
Hello
---
Hi I am Ranma Tardis and have been with Second Life since Nov 2005 and Inworldz since May 2011.
Oh not sure what to say, please ask me some questions.
Oh pleased to meet you and hope to meet some friends
"
"
asking to be forgiven
---
I have been a griefer in the past and have flamed people who did not deserve the rude treatment. I humbly ask forgiveness of those that were wronged.
Yes i has said similar things before and am asking the community to keep me from falling astray.
It is my wish to be part of the community and learn from my interactions with others. Please accept my apologizes, especially to Siggy and Joshua. The sad part is I was not even drunk.
So I am asking this community to guild me to a better future.
onigoshimasu
kind regards
Ranma
"
"
Could you pass along my message to Josh? I am perm banned in sluniverse. I am going to honor it by not posting as an alt.
Maybe with some guidance from this community can grow out of being a nerd.
"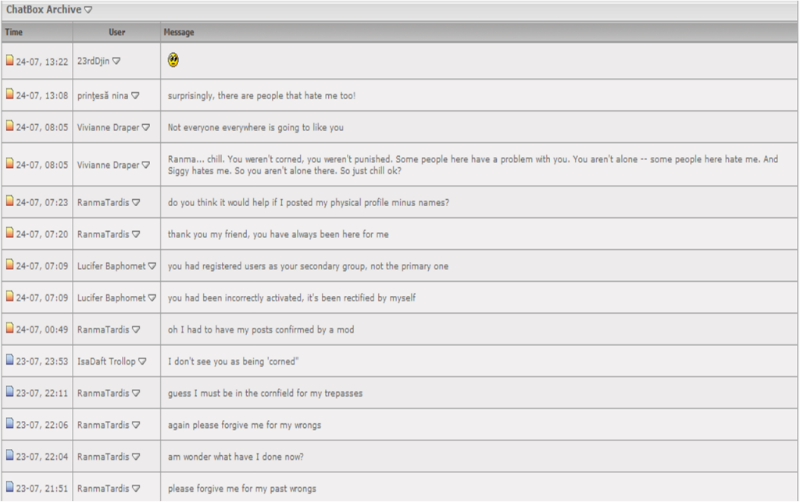 Looks like nina made a guest appearance.
Anyway, keep us posted. Confidentially inquiring minds want to know.
Oh, and there's plenty of room in the Cornfield, Ranma. Come on down! Out is the new in!