It was a homecoming week of sorts on
gotVirtual.net
.
Chaos
returned and
posted a qualified concession
to
Ishina
in the
Saloon
thread.
Mulch
alerted SC MKIIers on the return of
Chaos
in the "
Chaos Factor: I'm calling you out
" thread and got feisty in a gV thread he opened called, "
So, Chaos Returns After a Month With No Internet At All
," a title that slightly overstates the case as
Chaos
logged in on
RLetc.com
on June 16th and much of
Mulch's
OP is actually about
nina
and her forum policies and procedures, but his point was likely taken regardless.
Wasted Engineer's
ban on gV expired and he had a few things to say about the experience in the "
Some Feedback from a banned to share
" thread.

And speaking of
Wasted
and his bans...having been effectively silenced on gV, SC MKII and SLU, Wasted resorted to using the wasteland of his own forum to post about his bans in a thread called "
The SL Related Forums Suck
."
Cristiano
and
Monna
both got special mentions in the thread.
Wasted
has a snazzy new banner, details of the evolution of said banner, including
Sarah Nerd's
role, are in the thread "
Should I ban the banner?
"
Wasted
is also asking the general public once again for money as evidenced by a Shout in his Shoutbox on
his own website
.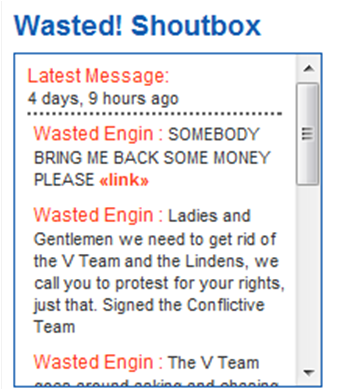 Things got a little tense on SC MKII when
Cocoanut Koala
posted a thread, "
BOYCOTT DELTA
," in response to a
Huffington Post
article written by Rabbi Jason Miller called "
Delta Adopts Saudi Arabian Airlines' No Jew Policy
," an article that was later discredited.
Coco
seemed to feel that the issues with airlines in general, e.g. partnering and servicing airlines and countries with discriminatory practices, reliance on Saudi Arabian oil, etc., extended beyond the contested article on
Huffington Post
. A debate ensued.
Mulch
responded with a parody thread called "
Boycott El Al
."
Coco
was not amused, and in a move that surprised and dismayed many SC MKIIers, she
excused herself
from the forum.
In lighter SC MKII news,
Fester
celebrated his birthday, and
finally
, after months and months of waiting,
received his spices
from
Mulch
and
Kita
. Season in good health,
Fester
.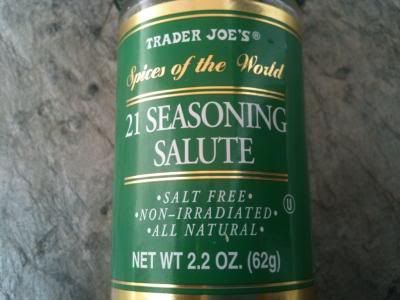 sephirot@vella
joined both gV and SC MKII. He was welcomed on gV by
Lias
for "a very well worded post and a fair offer" in the "
Interested in SHARING a Private Full Region?
" thread on gV and treated as a spammer on SC MKII after he posted his offer and a link to the aforementioned gV thread in the SC MKII ChatBox.
Kokoro Fasching
said:
"git yer bloody spam out of my chatbox! That is what the forums are fer. I just stapled the spammer to the L person over on gV... :) "
gV was also joined by new members
Ethel Lipsky
,
sinfilpeck
,
Mateo Lopez
and
BrittaBerry
. A gV
form letter for newly registering members
was created and
gV holiday logos
were assembled into an album.
Tarzan
continued to provide
news feed services
for gV and
Lias
tracked both real and imagined flounces in the "
Community Assistance - RAGEQUITTERS Seeking guidance.....
" thread.
SC MKII was
finally
joined by the charming poster,
Deca
, the pinko space muffin, and apparently has
Quimby
to thank for that. My one complaint might be that
Deca
has abandoned her Agnes forum avatar...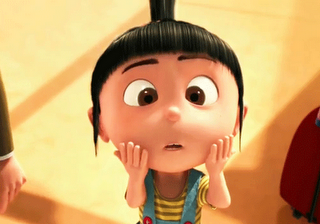 ...in favor of this one:

, a charming and amusing forum avi gif, to be sure, but I admit to being unduly influenced by people's avatars and
Deca's
"Agnes" avatar made me read her posts as cute and spunky, possibly more than some may have deserved, which is why I might describe some of her saucier posts as, well, "saucier," rather than say, "bitchy," "argumentative" or "flaming."
botalcks
also registered on SC MKII but has yet to make it over to
Ellis Island
.
Politics
continued to be one of the most lively sections of SC MKII. And speaking of politics and homecomings,
GreenLantern Exelsior
returned to post on SC MKII this month after a
four month absence
.

Robert Jung
, a member on SLU since September of 2008, decided to introduce himself with a new thread, "
Introducing Robert
."
Annabella
,
Teetefa
,
Ferran
,
Gio
,
davidventer
,
Highly Bashly
,
Neena Andretti
and
Sintax
also posted introductory posts in the
New Users
section of SLU.
Hot Topics on "the largest and longest running community site dedicated to the virtual world of Second Life," otherwise known as SLUniverse, are:
➲
Firestorm Public Beta - Released!
➲
Mesh Coming to Second Life This Summer
➲
Controversial Viewer Feature Survey
➲
guess who's working on the new avination viewer?
➲
How to troll a dating site
➲
Game of Thrones or Borgias?
➲
We don't need socialized health care.
➲
Goreans outside of gor sims
&
Do you judge goreans?
➲
What's the gentlest way to remove contacts from the friend list

Yevad Doobie
, frustrated by what he felt were flaming pile-ups and bullying posts on SLU, decided to check out RLetc.com and registered there as a new member.
Yevad Doobie
on SLU:
"I have decided to become an occasional visitor to this site rather than a regular one. When I began coming regularly I was yearning for a new forum home. I had been missing another forum and thought that SLU might be right for me, but it isn't. There is just too much nastiness here for my tastes. It is like a text version of the Jerry Springer Show most of the time. Not all the time, and there are some great people here, but how those great people live with the nasty ones is a mystery to me. I can't cope with it at the moment and I just keep making a fool of myself, so there is no point trying to become part of the 'family'."
rosane bento rodrigu
also joined RLetc.com.
Active topics on RLetc.com were in the playful game and chit chat sections as well as the sections covering Second Life, Inworldz, Avination and the Utherverse, with a focus on products, places and demographics.
The Bon Mots:
Tarzan said: "Wasted Engineer, you need a lawyer in this forum, that is obvious. You can hire me for 50,000 Lindens. As soon as you pay my account 50,000 Lindens I will begin to represent you against all of these "fakers" as you put it. Do not delay, pay me now so I can get to work."
Wasted said: "Tarzan if you defend me, God will pay to you."
colleen criss said: "'True tolerance is not a total lack of judgment. It's knowing what should be tolerated and refusing to tolerate that which shouldn't.'"
Tarzan said: "'True tolerance' is a tautological slogan I use as an escape hatch to avoid ever having to see the naked truth about myself."
Wasted Engineer said

: "...you can take my accout but you´ll never take my freedom."