I was compared to
Mitch Wagner
today, so I thought this question worth looking into and answering. I started by Googling him.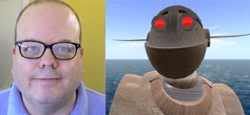 He's written a couple of blogs. He says he's a "technology journalist, blogger, social media addict, writer, science fiction fan, and husband" who is also "editor in chief of
The CMO Site
, an online community and group blog for chief marketing officers at big companies."
Green Apple
said in "Mitch Wagner: Journalist Turned Second Life Expert"...
"We discuss his early adopter involvement with Second Life including live virtual interviews inside the platform with many authors, business icons, and even Biz Stone, the founder of Twitter! Wagner gives insight to the media platform's tools and disadvantages. Mitch is currently the author of the Computer World Tool Talk blog and the Copper Robot podcast. He is Copper Robot in Second Life."
He looks so familiar. I feel sure I've encountered him on my internet travels before.
Links:
http://secondthoughts.typepad.com/second_thoughts/2011/09/joshua-nightshades-big-lie-and-the-griefers-exploitation-of-the-suicide-of-nikola-shirakawa.html
http://psishrinkers.blogspot.com/2011/09/nature-and-meaning-of-transgender-in.html
http://mitchwagner.com/
http://wagner.typepad.com/
http://www.techdirt.com/articles/20100426/1032359169.shtml
http://www.squaremartinimedia.com/mitch-wagner-journalist-second-life-expert/
http://copperrobot.com/2011/02/everyone-has-a-plan-for-fixing-second-life-heres-mine/
http://copperrobot.com/
ETA:
Aha! I knew I'd seen him before. There was a
metaslurp
post on RLetc.com featuring the old Copper Robot last year.
In Case You Missed it: Second Life Press Highlights from ... - RLetc