Brilliant.
Use Anna's windlight settings, keep your speakers on and stick to the path...as best you can.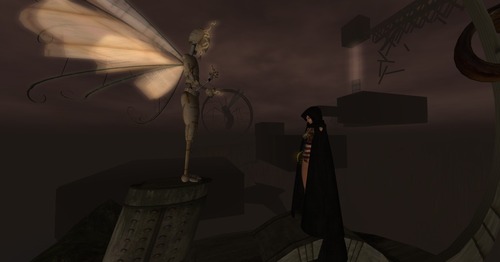 "Perhaps the glow of love will grow
With ev'ry passing day,
Or we may never meet again.
But then, it's not for me to say."
Bryn Oh did a really good job of creating tension. The tight spaces, the dangerous drops, the breaking glass, the howling wind, the tinny music. Great stuff. Enjoy.
Links:
http://maps.secondlife.com/secondlife/Originalia/55/220/107
https://my.secondlife.com/bryn.oh
http://blip.tv/bryn-oh/download-4072862
http://brynoh.blogspot.com/2012/03/annas-many-murders-on-originalia.html
http://brynoh.blogspot.com/2011/05/annas-many-murders.html
http://secondlife.com/destination/annas-many-murders-by-bryn-oh
http://www.blurb.com/bookstore/detail/2360325
http://www.blurb.com/books/2360325
http://www.romantic-lyrics.com/li28.shtml
http://www.youtube.com/watch?v=8wip2f2r7Co
http://www.youtube.com/watch?v=kXEMAnCUVW4